Stem Cell Therapy for Back Injury in Helotes, TX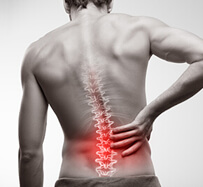 Falls. Car accidents. Sports injuries. Repetitive heavy lifting. Post-menopausal or andropausal hormone depletion. All of these factors can contribute—some suddenly and some gradually—to the degeneration of your spine, causing pain that can leave you severely incapacitated.
When simple daily tasks become grueling chores—as they do for millions of Americans every year—you should protect your lifestyle and joy with the most potent possible treatments available. When pharmaceuticals, exercise, weight loss, and surgery are ineffective or undesirable, stem cell therapy may be your ideal option.
Unlike surgeons who remove tissue and bone from your body, we harvest the most potent regenerative treatment known to science: mesenchymal stem cells (MSCs). MSCs can stimulate your own damaged cells' regenerative potential to restore your tissue, eliminate your pain, revive your range of movement, and the joy that movement brings.
Depending on your age, body type, genetics, and injury severity, the live-nucleated cells we deliver to your tissue may continue producing human growth factors for weeks, sometimes even months. As with all medical procedures, success rates will also vary depending on all these factors.
Our specialists have treated many back injuries with stem cell therapy. To speak with a provider today about stem cell therapy for back injuries in Helotes, call (210) 941-4815 or contact Dr. Vernon Williams online.
What causes back injury?
Common causes of back injuries and chronic lower back strain include:
injured ligaments, muscles, and tendons
lumbar disc degeneration
herniated or slipped discs: the soft tissue between spinal discs slips out
bulging discs: these may put pressure on a nerve root, causing pain
degenerative disc disease: torn or worn discs cause bones to rub against each other
inflammation of sacroiliac joint: wearing away of cartilage between spine and pelvis
pinched nerve: caused by bone spur or herniated disc
spondylolisthesis: a spinal bone slips out of position in the lower back
arthritis: the degenerative form of spondylolisthesis
sudden trauma: falls and accidents cause sprains, strains, and fractures
osteoporosis: weakened vertebra can't withstand normal stress and easily fracture
lifestyle factors: slouching, smoking, inactivity, long term high heel wear, and stress
How are back injuries diagnosed?
Back injuries are diagnosed through a variety of tests, such as:
a complete history and physical exam of your back pain
x-rays to check for signs of broken bones and fractures
CT or MRI scans to provide details about your spinal discs
bone scans to search for compression fractures
How can stem cells regenerate my back tissue?
Mesenchymal stem cells have the ability to differentiate into tissue, cartilage cells, and bone cells. How? Injured cells in your bones, muscles, ligaments, tendons, and connective joints send out signals. Mesenchymal stem cells respond to those signals, migrating to the injured tissue and releasing proteins that nourish and stimulate your own cells to begin regenerating.
Your provider will use x-ray or ultrasound imaging to ensure that the stem cells will be injected precisely into the damaged spinal tissue. The stem cells will dock next to your damaged cells and release growth factors, cytokines, and chemokines, which then may:
activate T-cells to secrete proteins
open up your blood vessels and form new ones
move cells out of your blood vessels and into the tissues surrounding them
stimulate your cells to regenerate your tissue
inhibit your inflammation
regulate your immune system
How many stem cells will you need? That depends on the extent and duration of your injury, your genetics, and the state of your health. You may see results of your treatment within 2-3 months. Our providers are trained to access your unique needs, then inform you how concentrated and how frequent your stem cell therapy for lower back pain should be.
Where do these live stem cells come from?
We process the umbilical cord blood of healthy newborns. If a pregnant woman decides that she does not want to keep and store her unborn child's umbilical cord she may decide to donate it. After signing an informed consent form, a medical and social history review is conducted, as well as a blood test. If the new mother meets all donor eligibility requirements, she is accepted as a donor.
After her baby is born, the umbilical cord blood is collected in a sterile collection bag and sent to a lab. The cord blood is processed within 48 hours using proprietary methods. A sample of the finished product is tested by an independent third-party lab for sterility. Only after all lab reports have passed the regulatory requirements can the umbilical cord stem cells be distributed.
Are umbilical cord stem cells FDA approved?
The FDA recently confirmed there is only one registered and approved stem cell product on the market: umbilical cord blood-derived hematopoietic progenitor cells (blood forming stem cells) used for certain indications. While there is enormous promise in stem cell therapies, and thousands of ongoing experiments trying to establish efficacy, stem cell treatments do not yet meet the FDA's scientific approval standard.
Practitioners tapping into this enormous promise of stem cells for any therapeutic use must exercise their professional judgment and expertise. We urge anyone embarking on the use of stem cell therapies to consult the national health data bases to evaluate current clinical trial information, and the FDA's website on human tissue, to get its current therapy evaluations.
In 2018 the FDA's commissioner and research director reported that the agency will be incorporating some "new concepts for how small investigators and firms can seek and meet the approval standard for products through efficient expedited pathways." You can keep up with latest developments on the FDA's website.
What are the side effects of stem cell injections?
As with any injection procedure, there is a small risk of bacterial infection (not associated with the product) and nerve damage. If you experience severe pain, bleeding, or swelling at your injection site, or experience symptoms like fever, nausea, dizziness, or vomiting, seek emergency medical care right away.
Reserve Your Appointment Now
Pain from back injuries can greatly interfere with life's plans, goals, and greatest joys. Thankfully, regenerative medicine in the form of stem cell therapy may help treat these injuries. To speak to a provider about stem cell therapy in Helotes today, call (210) 941-4815 or contact Dr. Vernon Williams online.
Hours and Directions
The Wellness & Aesthetics Medical Center
Address
540 Oak Centre Dr
Suite 114
San Antonio, TX 78258
(210) 941-4815
www.twaamc.com
Hours
Mon: 9:00 am - 5:00 pm
Tue: 9:00 am - 5:00 pm
Wed: 9:00 am - 5:00 pm
Thu: 9:00 am - 5:00 pm
Fri: 9:00 am - 5:00 pm
Sat: Closed
Sun: Closed

Areas We Service:
Pleasanton, TX,
Helotes, TX,
Universal City, TX,
Von Ormy, TX,
New Braunfels, TX,
Spring Branch, TX,
Seguin, TX,
San Marcos, TX,
Boerne, TX,
Comfort, TX,
Castroville, TX,
Hondo, TX,
Floresville, TX,
La Vernia, TX

No results